Virtual Museum and Art Gallery Tours
Hundreds of world-renowned museums and art galleries have teamed up with Google Arts and Culture to bring what they have to offer online and completely free of charge! Google's collection includes the likes of the Van Gough museum in Amsterdam, The British Museum in London and the National Museum of Art in Seoul. The best part about this? You can view all the museums you've ever wanted to visit from the comfort of your own home.
We went through and picked out our favourites for you to take a look at. Grab your drink and get comfortable because you're going on a tour!
Natural History Museum, London
"The Natural History Museum in London is a natural history museum that exhibits a vast range of specimens from various segments of natural history."
From dinosaurs to space and human evolution to butterflies – this museum has it all. This London museum has been a big hit with Londoners and tourists alike and we know you'll love it too!
Click here to start your virtual tour.
Guggenheim Museum, New York
"An internationally renowned art museum and one of the most significant architectural icons of the 20th century, the Guggenheim Museum in New York is at once a vital cultural center, an educational institution, and the heart of an international network of museums."
With museums in both Spain and New York, you don't have to travel to get up close and personal with what the Guggenheim has to offer. You can now tour the famous spiralling staircase without having to do any of the walking!
Click here to start your virtual tour.
Van Gogh Museum, Amsterdam
"The Van Gogh Museum makes the life and work of Vincent van Gogh and the art of his time accessible and reaches as many people as possible in order to enrich and inspire them."
The Van Gogh museum is home to over 200 unique paintings by the artist himself, alongside 500 drawings and 750 personal letters which are all part of the permanent collection.
Click here to start your virtual tour.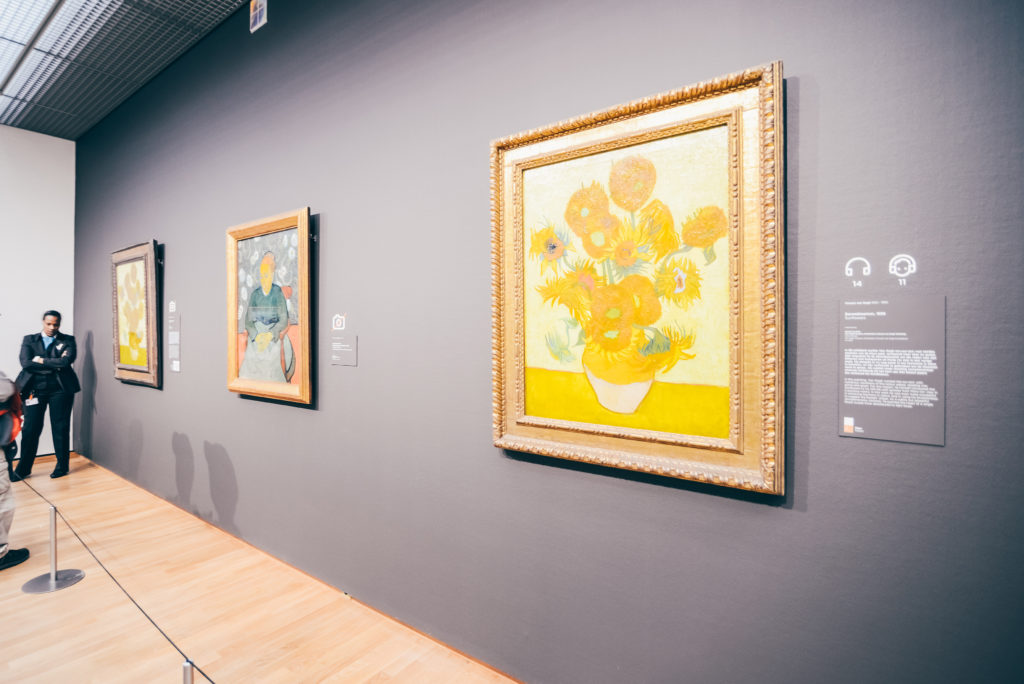 National Museum of Modern and Contemporary Arts, Seoul
"Boasting a superb natural landscape surrounding the site, MMCA Gwacheon will be devoted to various genres of visual arts such as architecture, design, and crafts."
The NMMCA is made up of multiple sites, including outdoor and indoor and features many paintings from a variety of Asian artists. The museum's mission is to create a culturally rewarding experience for its visitors and plans to honour this mission for many generations to come.
Click here to start your virtual tour.
Louvre, Paris
"Approximately 38,000 objects from prehistory to the 21st century are exhibited over an area of 72,735 square metres. In 2017, the Louvre was the world's most visited art museum, receiving 8.1 million visitors."
The Louvre is the world's largest art museum and one of Paris' most historical monuments. The former palace is home to the likes of the Mona Lisa and Venus of Milo so it's no wonder that this museum is a must-visit for anybody who takes an interest in art.
Click here to start your virtual tour.
The J. Paul Getty Museum, Los Angeles
"Located at the Getty Center, the museum features works of art dating from the eighth through the twenty-first century, showcased against a backdrop of dramatic architecture, tranquil gardens, and breathtaking views of Los Angeles."
The Getty museum prides itself on being a philanthropic institution dedicated to the preservation and conservation of art. It is home to a magnitude of European paintings, sculptures and manuscripts meaning it should definitely be on your to-visit list!
Click here to start your virtual tour.
The British Museum, London
"The British Museum's remarkable collection spans over two million years of human history and culture. Over 6 million visitors every year experience the collection, including world-famous objects such as the Rosetta Stone, the Parthenon sculptures, and Egyptian mummies."
The British Museum has a long and exciting history! It was one of the first buildings to use electric lighting, is the world's oldest museum and older than the USA, has 3,312 panes of glass in its great court roof which are all unique and was also the set for the movie, Night at the Museum. This is not one to miss!
Click here to start your virtual tour.
——
We hoped you enjoyed your virtual tours! Did you take any? Let us know if you by tagging us on Instagram or Twitter using #framesexpress
Picture Frames Express