Custom Picture Frames from the UK's Online Framing Experts
Leading UK Supplier of Made-to-Measure Frames for Pictures, Photos and Posters

Measuring
Guide
Made in the UK
by us for you
Customer
Feedback

A guide of the measurements and tips that we use for picture frames and mounts to make sure you get your measurements right.


Whether you buy a standard size or customised picture frame from us, all frames and mounts are manufactured in the UK exclusively by us. Our custom picture frames are made to measure once your personalised order has been placed and can be delivered within 24 hours of the dispatch date.
Our
Frames

No room is complete without some sort of wall mounted decoration to bring the living space to life. What better way to bring a room to life, than by hanging a beautiful piece of artwork or photo memory on the wall. Another popular way to personalise an interior is to display treasured photographs of family and friends on shelves and mantelpieces. The frames in our collection are perfect for adding that finishing touch to your pictures and photos. We supply our frames in variety of materials and finishes, and each has its own unique look and feel. If you're after a natural effect, have a look at our Wooden Frames



Or if you prefer a more contemporary style, check out the Aluminium Frames in our metallic collection.


Picture Frames
in Every Style

We supply picture frames in almost every possible style you can imagine. The frame you choose will very much depend on the picture in question and the room it is going to be hung in. When picking a frame to suit your living space, consider the decor of the room. Has it been styled with decorative wallpaper or colours painted straight onto the wall to create a matte finish? How is the furniture laid out? Where does the natural light come from? Do you have a feature wall that you're making the focal point of the room? All of these points need to be looked at to make sure you choose a picture frame that compliments the theme of your room. Check out the different styles available on our frames page



Custom Made
Picture Frames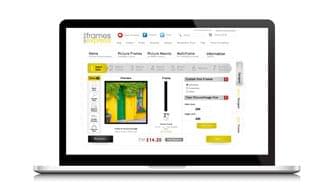 Every picture is unique; they come in different shapes and sizes, and have different themes and styles. However one thing that's definitely for sure is that you'll be able to find a frame on our website to suit your needs. With our bespoke picture framing service, you can order custom made picture frames to match your exact requirements. You can customise your frames to the precise measurements you wish, select the colour and effect you want, and even choose the exact mount style to suit your picture. Our made to measure online framing service can cater for almost any size and shape of picture, so you can customise your frame to suit your needs.






About
us
Latest
blog post
Fine Art
Trade Guilds
Established in 1987, we have been manufacturing and distributing high quality picture frames throughout the UK for over 20 years.

Our range of products, including photo frames and picture mounts, are handcrafted to the highest of standards to provide a satisfactory framing solution.
February's Photographer of the Month- Charmaine Harrison
'What can you tell us about your entry into our 'Weather Watch' photography competition?' Approaching Strom Over Strumble Head was an image I had planned to take for a ...

High Quality
Handcrafted Frames
All of our picture frames are expertly manufactured in our picture framing factory on the outskirts of Coventry. Our team of framers have decades of experience handcrafting frames to the highest possible standards. We use cutting edge tools and machinery to ensure that every single one of the picture frames we sell online exceeds the customer's expectations.