7 Tips to Finding Inspiration for Art
Finding inspiration for art is a continuous process, it's everywhere but sometimes you just can't seem to find it. Have you been staring at that blank canvas yet nothing comes to you? We feel your pain. There will come a time when every artist will be halted by art block, so remember you're not alone.
We've put together a list of things that can help you get out of that creative rut.
It may sound simple but that's because it is! Getting up and heading outdoors can really get those creative juices flowing, even if you don't plan to draw it nature can be real head turner – it's the world's most natural form of art. Even if it doesn't inspire you, getting up and taking a walk is a great way to clear your mind and give yourself a fresh outlook.
Looking at what others are doing may spark your creativity and give you that push you need to start drawing. Start by visiting art blogs, then maybe view your favourite artists Instagram – have they done anything new since you last looked? Try searching hashtags you're interested in. Some hashtags we're loving at the moment are  #illustration  #abstractart  #lineart  #graphicart  #contemporaryart
Take a look at what's trending and what's new. How could you incorporate this year's Pantone colour into your art? Who won the Turner Prize previously and what for? There are even several websites that hold art challenges which can give you a brief and this can be a great starting point.
Believe me, they'll know exactly how you feel. Sometimes, having that fresh pair of eyes and outside perspective can really help you hone in on an idea. Talk through an idea you had, they might be able to shed some light on how to elevate it to the next level – constructive comments are a brilliant way to continue improving on your artwork. Try asking other artists what they're working on and where they draw their inspiration.
Making a list can help visualise your thoughts. Try writing down anything that could help, it doesn't have to be paragraphs, simple bullet points are quick and efficient enough to get your cogs turning. Try just scribbling and doodling, then turn something simple into something extravagant.
Ask yourself these questions, do the answers invoke inspiration?
What made you happy today?
What do you like to draw?
Why do you create art?
What's your favourite colour?
What was the best thing you ever drew?
What would you like to have a go at?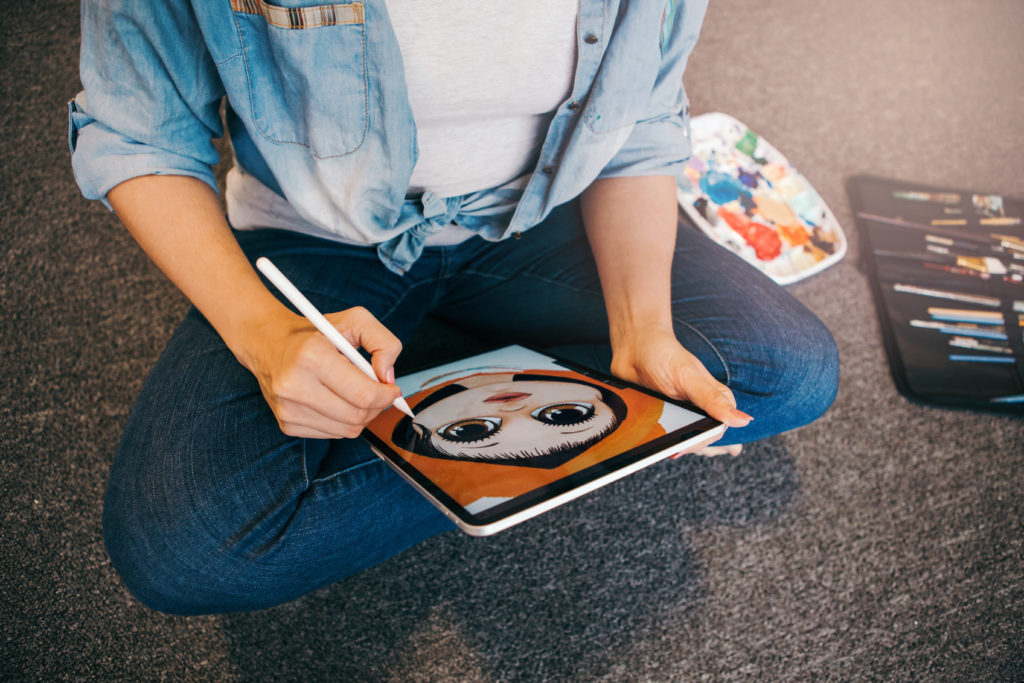 Have you had a go at a new art style lately? Maybe use watercolour, instead of graphite. Maybe use black paper, instead of white paper, to creative that perfect reverse silhouette.
Throwing yourself outside your comfort zone may stir up something inside you that you never knew you had – even if you don't like what you tried, you changed it up and broke that creative habit!
Go through your portfolio back to front and look at your favourite pieces, what made them so great? Look at pieces you could improve on, how would you improve it? It's okay to take what you've already done and grow it into something bigger. Sometimes, your biggest inspiration can be what you already know.
Break it down to the bare essentials. When do I prefer working? Am I more productive at night or during the day? What area of the house/garden/studio do I like to work in? Do I have everything I need to get started? Setting your perfect work preference can help coax those ideas out. Short and focused sessions usually bring out the best results, however, everybody is different.
Don't be afraid to make mistakes and start over. Pablo Picasso once said, "I begin with an idea and then it becomes something else".
There's always one thing to remember.
Know that you can do it.
---
We really hope these tips helped you! Did you create anything after using these tips? We would love to see them so don't forget to tag @PictureFramesExpress in your post so we can feature you on our social media pages!
Picture Frames Express