Featured Artist - Iain Clark
My name is Iain Clark, and my hobby is creating pixel art out of Perler, Hama and Artkal beads. These are small (5mm) plastic beads that can be melted together to form images. I stumbled upon this form of art in 2013 when I was attending a comic convention.
The artist was selling small bead sprites based on retro videogames, so as a gaming enthusiast myself, I decided to try making my own. I started out making scenes from old videogames, as there is a very precise correlation, i.e. one pixel in a game is equal to one-pixel bead. With practice, I was able to make bigger gaming scenes, and get the ironing technique just right (it is very easy to over-melt the beads and ruin your creation).
In time, I dabbled with designing portraits on the computer, and am constantly trying to find new and interesting ways to make pixel art. What I enjoy most about portraits is dabbling with colours until I find a mix that works well for the particular image, as well as varying the scale – either making big pieces that include lots of detail or making them as small as possible while keeping them recognisable.
Recently I made a small (roughly A4 size) version of the Mona Lisa: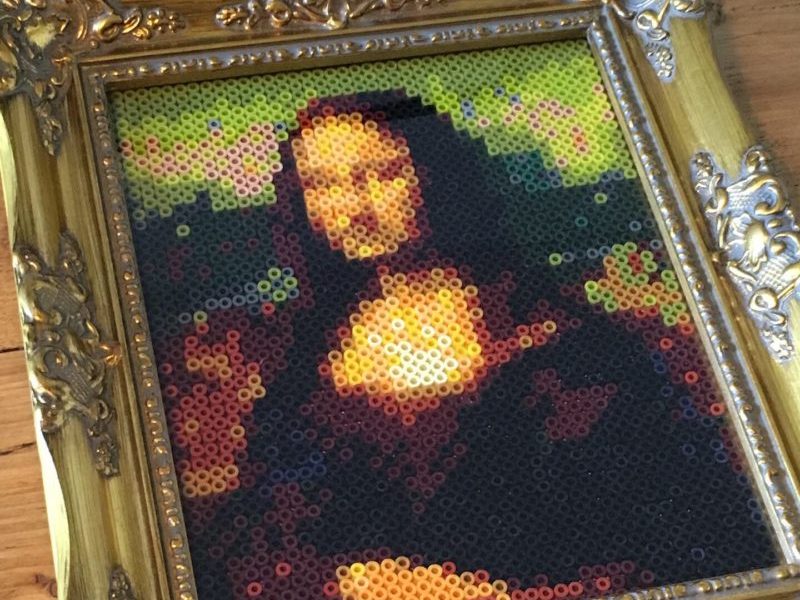 While the details of the eyes and smile aren't really there, the colouring and shape provides recognisable context, and from across the room, the viewer would be forgiven for thinking it was a painting. Only as you get closer do the pixels start to emerge. The fancy frame from Picture Frames Express definitely helps with the classic art theme too!
While the larger pieces are easier to recognize due to the increased detail, they take a lot longer to make (as every bead is placed by hand).This picture of Tupac required very little correcting from the computer design I created, as the features are all clear and the scale was adequate enough to let the details shine through.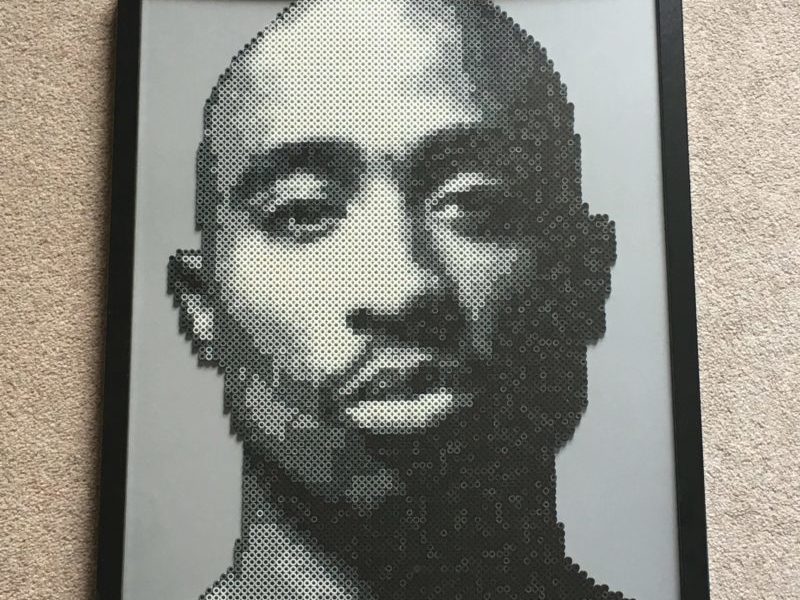 My advice for aspiring artists is to be persistent. It takes time and practice to hone your technique, and there is always room for improvement. I believe the best artists always believe they can improve, and don't stop trying, no matter what level they reach.
This year I hope to find somewhere to display my art in public. It has been over a year since I last had a space in which to exhibit, and I think all artists aspire to have their work on display for others to see. I still sell gaming art at videogame markets, but I do really enjoy making portraits too.
My work can be seen on Instagram and Twitter (@caveofpixels), and I have a website too: www.caveofpixels.com. This year I will also be selling at some gaming markets and film conventions in Leighton Buzzard, Leeds and Nottingham.