Jenny Urquhart - Featured Artist
My name is Jenny Urquhart and I'm a Bristol-based artist. I'm most well known for my bright, colourful paintings of Bristol's Clifton Suspension Bridge and hot-air balloons!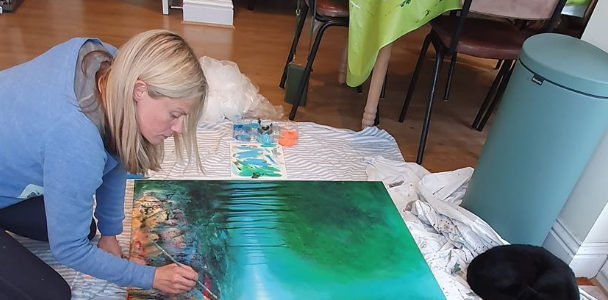 How did you get into art?
I started painting about 8 years ago after a 10-year career as a Biology teacher. I had small children and struggled to juggle all the planning and marking, so decided to resign and become an A-level tutor. I painted a picture, a friend bought it, so I painted more…and haven't stopped since.
I paint about 6 or 7 hours a day and totally love it! Having no training can be advantageous as I just make it up as I go along, this results in trying masses of different styles and techniques. People often look at my work and can't tell it's all done by the same artist.
What is the area of art you specialise in?
My bright Bristol cityscapes are probably the most familiar paintings and recently started indulging myself with more rural scenes featuring coast and forest. I grew up in the countryside and really miss it, so if I have a day where I can paint what I like, more often than not it will be natural landscapes!

What is it that you enjoy about art?
I totally love my job as I love creating new images that you people can lose themselves in, or paintings that just cheer people up, and just for a moment take them to another place, whether that's Bristol, the Cornish coast or a deep woodland.
My art doesn't need explaining- what you see is what you get! I don't find a blank canvas daunting and I have a strong urge to create, and being able to do it every day is brilliant! When you are painting all other things disappear… the house could be on fire and I wouldn't notice! ? Probably, more importantly, painting allows me to be flexible with childcare, and I am always able to be at home for them.
Have you had any recent or have any upcoming exhibitions?
I have had a mega busy period at Arts Trails and fairs in the run-up to December, and the next few weeks will be fulfilling commissions for Christmas. January will be a lot calmer, and then I'm going to be widening my subject base and try painting places I have never visited before…Brighton is next on my list!
If you could offer one piece of advice to aspiring artists, what would it be?
My advice would be, if you want to make money from your art then it's really important to do a mix of painting things you enjoy painting, whilst also painting things with a wide appeal! I have been painting mostly Bristol in the last few years, and thankfully it's a popular city full of beautiful landmarks.

What are your goals for this year?
My goals are to paint new places I've never been to before (like Brighton!) and possibly paint a picture for my own house. I have a slight obsession with Spring hedgerows, so would like a big one for my wall!
Where can we see your work?
You can see my work in many different galleries and shops (Room 212 on Bristol's Gloucester Rd, Bristol's MShed Museum, Bristol Tourist information, Coldharbour Gallery in BS6) and the online shop 'The Bristol Shop', my Facebook page Jenny Urquhart Art, Instagram @jennyurquhart. You can also see my work lining the walls of platforms at Bristol's Temple Meads Station.
My new website will be coming out very soon too: www.jennyurquhart.co.uk