Johnman - Artist of the Month - March '19
Introduce yourself
Hi! I'm an urban artist working under the pseudonym Johnman and paint both outdoor murals and smaller scale gallery artworks. I'm from England originally but now live in Dublin with my wife and young son.  Like most urban artists I like to keep my identity a closely guarded secret, yet it is widely speculated that I may, in fact, be a man named John.
How did you get into art?
I've always enjoyed art and in my teens, if I wasn't playing the guitar I was either painting or drawing.  Then in my twenties being a "grown-up" just kind of got in the way. In my thirties, I moved into a new flat with lots of wall space.  Once I'd finished furnishing it, I desperately wanted to adorn the walls with artwork but the only money I had left would stretch no further than a couple of blank canvases and a few cans of spray paint.  I fell instantly back in love with painting again and was both delighted and proud of my end results. Soon afterwards I met fellow artist Mos Shaw of Arts Anonymous, who not only gave me the opportunity to exhibit my work but really fuelled my confidence to do so and pursue my artwork further.
Tell us about the area of art you specialise in
I work predominantly with transparent spray paint, applied over colourful backgrounds with hand cut stencils which are then finished with the fluid application of acrylic ink. I'm best known for painting on train tickets, collaged together as a canvas.  This idea was originally inspired by the historical roots of graffiti being painted on train carriages.  I also love the way that each ticket represents a journey that has it's own untold story and take inspiration from this in my subject matter.  I'm a true romantic at heart, which is often reflected in my work, depicting couples on their own journey, symbolised by railway tracks but with the steel box of the train carriage stripped away.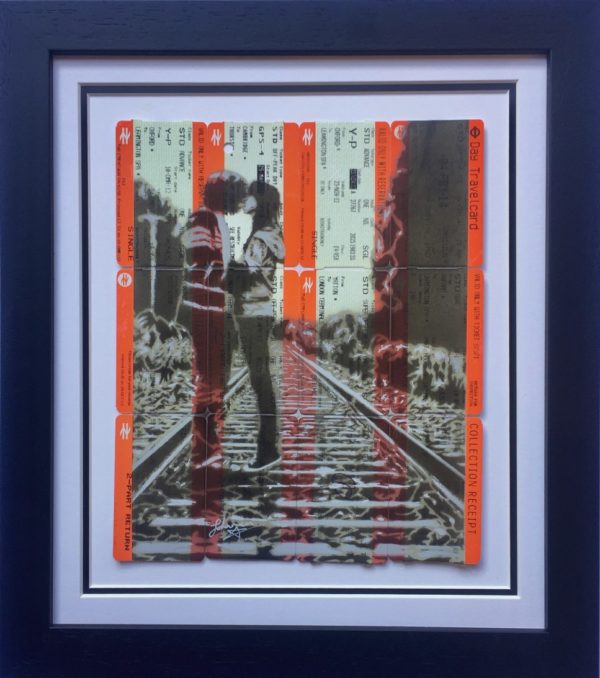 When I paint murals I enjoy using a myriad of colours, tagging the wall again and again until it's completely covered in paint. This then forms the background, which I work on with the same style and technique, just scaled up.  Again, I use hand-cut stencils that can take weeks to cut.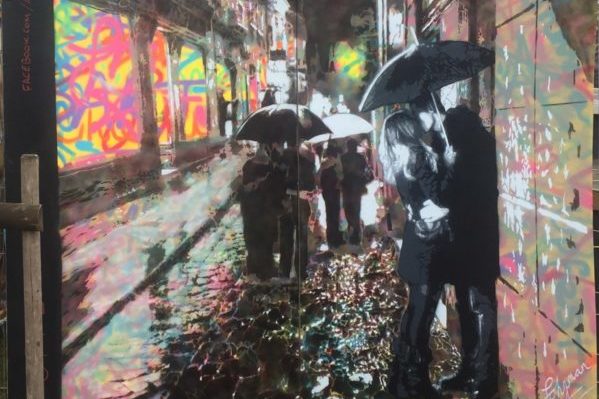 I'm currently working on a series of artwork produced using, cut, flattened, engraved and painted Guinness cans which all start with a pint of the black stuff! Cheers!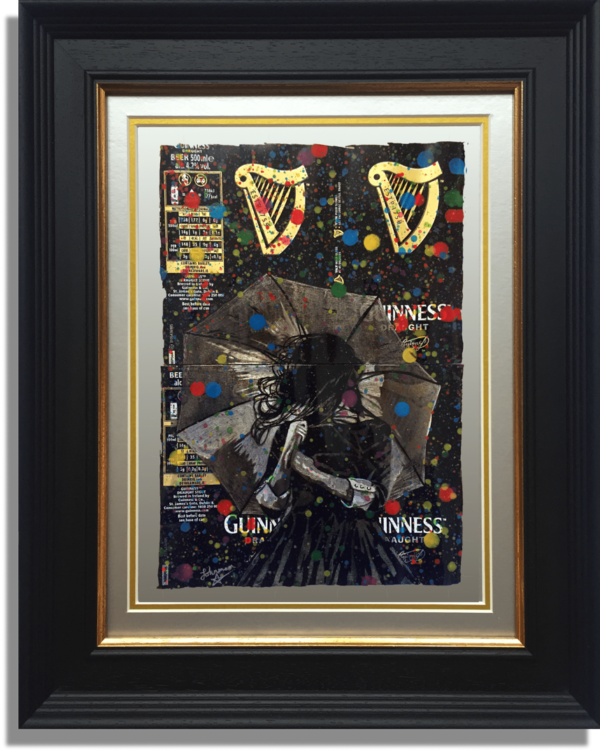 What is it that you enjoy about art?
There are so many things.  One is escapism. At every step of the process; from sketching out the concept, cutting the stencils, working with the spray cans and doodling with acrylic ink, I get completely absorbed in my work and any of life's stresses are gone.  I also get a sense of relief with the creation of some works. I'll often get an idea brewing in my mind, which builds to a creative itch that just has to be scratched.  There's just an indescribable buzz when your creative idea is finally brought to life and the anticipation of being able to share it with others.
Showing my artwork to other people brings me the greatest joy, especially when they're enthusiastic about it or even wish to adorn their own walls with it.  But I've grown to respect you can't please everyone and take pride no matter what.  I once painted a mural in Exeter (with the permission of the City Council) and after many pleasant and complimentary exchanges with numerous passers-by, I saw an elderly lady approaching; sour-faced, hunched over and wheeling one of those trollies behind her. She went into a mad rant telling me she was disgusted, it was a disgrace, an eyesore and I should be arrested.  As she was approaching I'd guessed she wasn't the type who was going to appreciate my art but her utter disdain for it really entertained and enthralled me.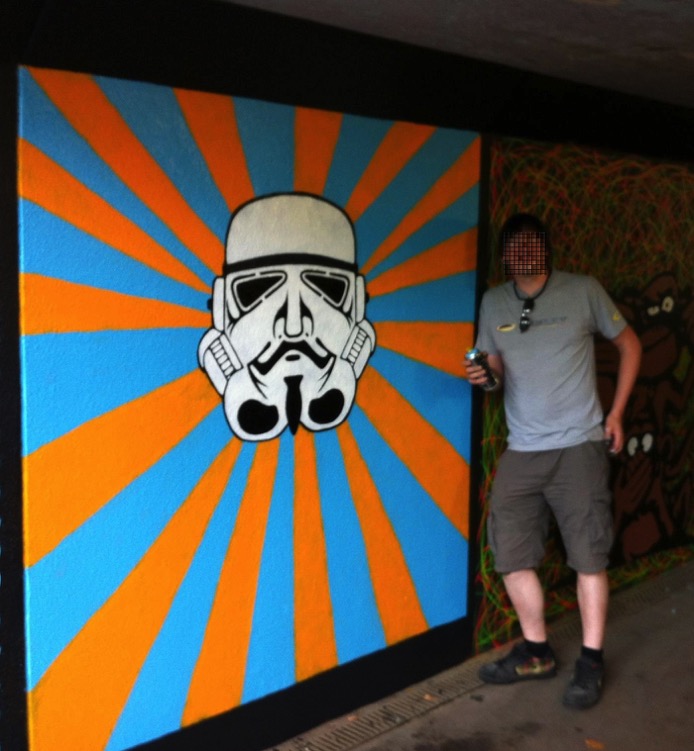 Tell us about one of your projects/your work
I've just completed a piece entitled "Network Glitch".  It was one of those creative itches I spoke of earlier.  Since the start of the year I've been preparing for an art fair and despite knowing this piece wouldn't feature, I was so inspired I had to down tools on all other projects as this was all I could focus on.
I'd happened upon the work of Kit King. I could enthuse about her work for hours but in a line; she paints hyperrealism with oils and then slices her canvas into strips to create works of surrealism.  It was this aspect of her work and the sheer bravery of it that I felt compelled to incorporate into a piece of my own.
I'd been kindly gifted a huge ensemble of international train tickets by various people over the years and I was never quite sure what I would do with them but suddenly this idea exploded in my mind.  A vision adrift of what I do normally. Much larger, much bolder but still definably me. The more I pondered it, the more reasons not to progress with it entered my head and doubt began to creep in: Would it be too big? It would be too expensive to produce! Where would I exhibit it? How would I get it there? Would it be any good? Would I end up spending a load of time and money on something that simply didn't work?
I took a moment to share my concerns with my wife. She's an economist and I was confident she'd help in having this crazy idea knocked quickly out of my head. "You're worried about spending weeks of your time investing, energy, money and emotions into a project that might not work? Isn't that what being an artist is all about?"
She'd hit the nail on the head and I set to work realising my vision.  A key component was to be a rather large, custom made, box frame.  As usual, I put my dimensions into the Picture Frames Express designer but this time I got an error message.  My dimensions were too large! I contacted the help desk and Suzanne was kindly able to quote for my requirements (and requote and requote and requote as I kept tweaking the final design. Sorry Suzanne!)
The end result is "Network Glitch". Spray paint and acrylic ink on rail tickets from around the world; float mounted at various heights in a large box frame.  The piece has rail tickets from Ireland, Britain (both historic and modern), Holland, Italy, America, Australia, Singapore, Norway, Italy, Germany, France and Hong Kong and uses Hannah Chledowski photographed by Atikh Bana as its reference material.
The artwork also incorporates my first use of Molotow's Liquid Chrome, which really makes the jewellery elements of the piece ping when the light catches them.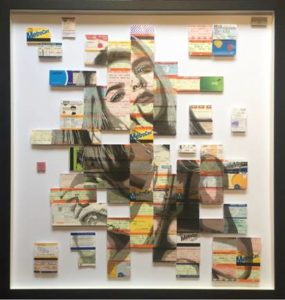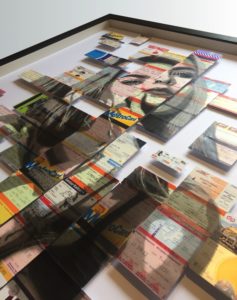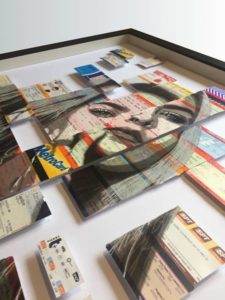 If you could offer one piece of advice to aspiring artists, what would it be?
Have confidence in yourself, push yourself and try new things.  If something you try doesn't work, that doesn't mean it can't work. Try again!
My own mantra for this year is to make my own luck! Last year I found myself stuck in a bit of a creative block.  I was looking at other artists, envious of how lucky they were with the opportunities they'd had.  It dawned on me that to consider them lucky was an injustice.  The opportunities they'd been presented with had arisen through their own hard work and dogged determination to be successful.
What are your goals for this year?
I think they can be best summarised as simply becoming a better artist! Not settling for any compromises in the quality of my work, experimenting with new ideas and techniques and hopefully in doing so I'll broaden my appeal and allow my artwork to continue opening up new opportunities for me.
Where can we see your work?
"Network Glitch" is currently on its way to Reload Gallery in Leamington Spa, to be exhibited alongside some of my other train ticket work. https://www.reloadgallery.com/collections/johnman
The Upfest Gallery in Bristol has a small selection of my work available.  I also feature in all three of their books capturing 10 years of the Urban Paint Festival. https://www.upfest.co.uk/artist/johnman
I'll be at the Roy's People Art Fair 4th – 7Th April 2019, in the Barghouse at London's Oxo Tower Wharf.  Tickets are free, so if you can make it, do come along and say Hi (or tell me I'm a disgrace who should be arrested!) as well admiring the work of 84 other artists across 3 floors. https://www.royspeopleartfair.com/visit.php
I'll also be painting an outdoor mural at this year's Cheltenham Paint Festival 1st – 8th September 2019 https://www.cheltenhampaintfestival.co.uk
Other events and exhibitions will be announced on my website www.Johnman.Art and on social media @JohnmanSpraycan