Why You Should Choose Custom Picture Framing 
We know a lot of people wonder whether custom frames are much different than standard frames and whether they're worth the investment. Well, there is quite a big difference. If what you plan to frame has value (or sentimental value!) or has unusual and specific dimensions, custom framing is definitely the way to go. 
We have been manufacturing frames for over 20 years and providing them for artists, photographers, crafters and homeowners. We have a huge selection of materials for frames, over 700 in fact, so we know that we have something that you will love. Here at Picture Frames Express, we know our stuff so let us tell you why you should get custom framing for your prints, artwork, photography or whatever it is that you're planning to showcase. Have a read of below and see for yourself what the benefits of custom picture framing are! 
Give it a little personality
Choosing a frame that you customised, from colour to pattern to size, really makes it yours and can show off your personality to anyone who steps into your home or gallery. They really add that special touch to any homeowners interior! 
Some may think that because a frame is bespoke, you lose out on options with materials, colours and finishes but on the contrary! Our frames are made to measure and can be personalised right down to the finishing details. 
Enhancing your work
Framing is a fantastic way to show off that great piece of artwork you bought or maybe that photograph you're really proud of. Bespoke framing can enhance this! With a made-to-measure frame, you won't have to worry about cramming in or cutting down your beloved art piece to fit into a specific dimension.
Something to remember is that custom framing is suitable for almost anything, from drawings to needlework to other three-dimensional things you may have created or acquired, our box frames our perfect for this! Have something to frame and not sure if we can help? Get in touch with us and we'll see what we can do. 
Protection from damage 
Without proper protection, colours in photographs and art over time can fade and become saturated. Sometimes, they can be damaged even by natural light. Thankfully, all of our frames, including our standard size collection are built to protect your piece so you don't have to worry. 
Variety in materials
When you opt for bespoke framing, you can pick the material used in your frame. Here at Picture Frames Express, we offer just that with a fantastic variety of styles and materials available including woods such as oak, ash and beech or aluminium, made to order to your custom size.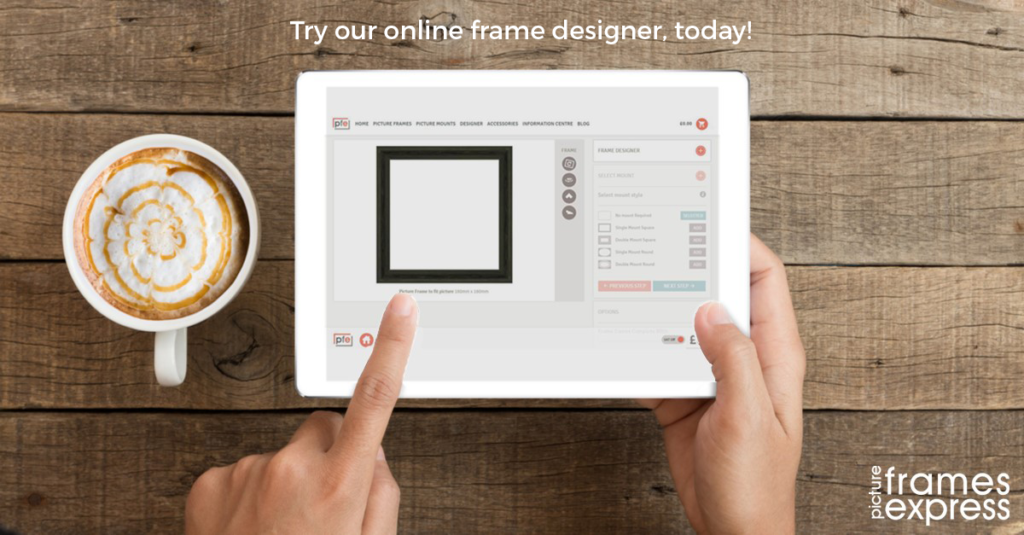 Quality guaranteed
Our team has decades of experience handcrafting to the highest possible standards. We use cutting edge tools and machinery to ensure that every single one of the photo frames we sell exceeds the customer's expectations. We are proud to be associated with the Fine Art Trade guild, a guild set up to protect the interest of consumers within our industry. Being a member of the guild you can be assured of Quality Products & service.
Customisation is easy! 
We know every picture is unique and of a different size which is why we have three online designers available perfect for inputting your custom sizes for your made-to-measure order.
As our expertise has grown so has our product range. As well as single frames we also offer made-to-measure multi-frame options which have multiple openings, ideal for displays in photo collage style as well as a selection of mounts available ideal for both presentation and protecting your piece. 
In need of a specific dimension frame? Take a look at our online frame designer today and start building your ideal frame! 
Have a lot of photos that you don't know how to display? Take a look at our multi-frame designer, it has the option to add up to 48 pictures and each section can be customised to your pictures exact measurements. 
We also have a mount designer with a big selection available! Take a look at our mount designer. 
—
Whether you buy a standard or bespoke sized picture frame from us, all frames and mounts are manufactured in the UK exclusively by us. Our frames are all made to measure once your order has been placed and can be delivered within 24 hours of the dispatch date. 
When you buy from us, you're supporting a local business. We have been in business for over 20 years now and we could never do it without our loyal customers. Give us a call on 02476 225 504 or drop us an email on sales@frame-express.net and let us see how we can help you!