Biophilic Design Tips For Your Bathroom
Biophilic design is fast becoming a staple in contemporary home design. After the uncertainty brought about by COVID-19, people are leaning towards softer interior design choices that are calming and restorative. Having spent the majority of 2020 housebound, we certainly advocate this approach.
Biophilic design appeals to our innate attraction to the natural world. This is achieved by incorporating natural elements into the home's makeup. The bathroom is a space where we are able to be vulnerable; to unwind and escape. It makes sense, therefore, that more and more people are choosing to decorate their bathrooms following biophilic design principles.
Here at Picture Frames Express, we believe using nature is a fantastic way to open up your home and make it more welcoming: for yourself and guests. In the following post we are going to offer some tips and guidance on creating a biophilic design scheme in your bathroom.

Plants
Plants are definitely a good place to start. You have two options when choosing plants: you can use real or faux plants. If you are using real plants, you need to be mindful that they are going to be in the moist and humid atmosphere of your bathroom. Plants such as orchids or spider plants, that thrive in humidity, would therefore be a sensible choice.
The problem with real plants is that they require regular care and attention. If you do not have the time to give them any TLC you may be best to avoid them. Afterall, nothing looks worse than a dead houseplant.
By using faux plants you avoid this. They are a low maintenance (requiring no additional care) and cost effective alternative to the real plant. You may, however, lose some of the texture and authenticity that real plants provide. It must be highlighted that contemporary faux plants are very well made and accurately replicate the texture and feel of live plants.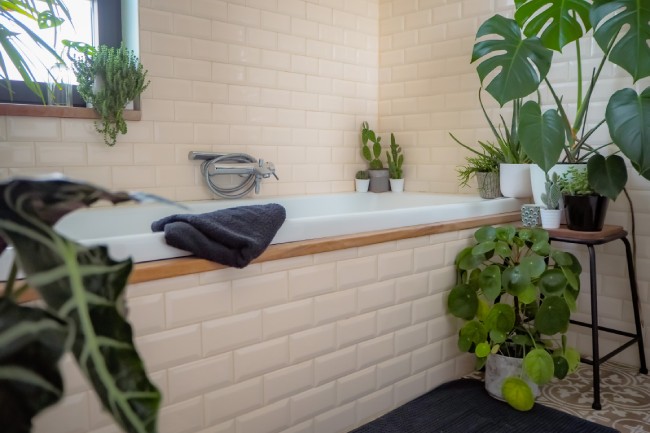 Lighting
Although plants are a good place to start, there is more to biophilic design than placing a few faux orchids in your desired space. Incorporating biophilic design into the home is very much the practise of combining a number of elements (plants, lighting, materials, colours) to replicate the texture and feel of the natural world. It is helpful to think of it as bringing the outside in.
Lighting, therefore, is an important element to consider. Where possible, you should look to exploit natural lighting. If the goal is to bridge the gap between our busy lives and the natural world, nothing will get you there faster than large windows. Of course in some homes natural lighting may be limited. And it is not always possible, or indeed advisable, to start creating holes in the wall. In this case you will need to implement artificial lighting. We recommend the use of LEDs. These are often energy efficient and produce a more natural looking glow. If the aim is to open up your design scheme, and bring the outside in, we suggest avoiding harsh and abrupt lighting. This can really clash with what you are trying to achieve!

Colour Schemes
Carefully considering your colour scheme is an easy and effective way to create your biophilic bathroom. Walls, tiles and flooring all make a contribution towards your colour scheme. Earthy, muted colours are a good option. These will evoke a calming and restorative feel within the bathroom similar to the outdoors. If you are going for something more striking, you can give nods to nature through the use of ??deep blues (glacial lakes) or vibrant pinks (summer sunsets). These are only a few ways that you can manipulate your colour scheme. Your options are endless and we always encourage you to get creative!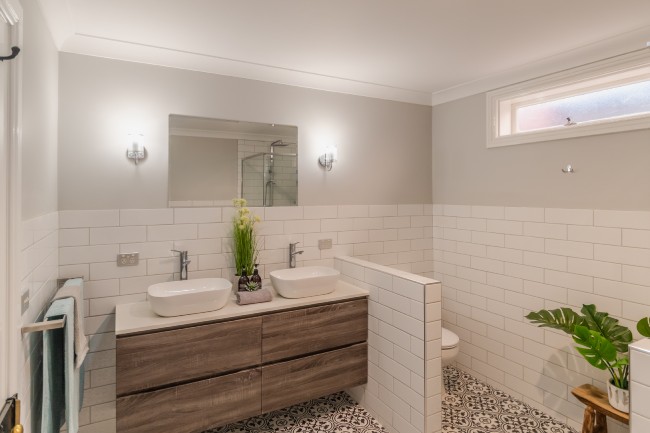 Natural Materials
Natural materials look fantastic and they'll support you on your quest to bring the outside in. When choosing wall tiles, flooring or even decorative items why not make use of wood, stone or ceramic. Of course if your budget allows, a stone or marble floor will, undoubtedly, look phenomenal. More than just looking pretty though, the use of these natural materials brings you closer to our ancestral roots. Items like wood and stone will help you create that calming, biophilic space. If you are looking to frame some art for the bathroom, we have frames with natural finishes that will accompany stone flooring or ceramic tiles. Visit our Natural Wooden Frames page to view our product line.
Do you plan to make any changes to your home? If so, we would love to see the results! Don't forget to tag @PictureFramesExpress in your post so we can feature you on our social media pages!