How To Choose The Right Sized Art For Your Space
When choosing a piece of artwork for your space, there are many things to think about. Chief among these is the picture's size. Get it right and you'll have the perfect statement piece, get it wrong and it will fail to have the desired impact.
Read on below to discover our top tips on how to select the right sized art for your space.
Get The Measuring Tape Out
Before you do anything else, you need to know what you're working with. By measuring the height and width of your wall, you'll at least have a foundation for your choice. Once you have these dimensions the most common advice is to select a piece that covers 60-75% of your available wall space. The ideal size can be calculated by multiplying your wall's height and width by 0.6 and 0.75. Anything between these measurements will be perfect.
Don't Forget About The Frame
Unless you're purchasing a pre-framed piece, your measurements will also need to account for framing and mounting. Although these things will only add a few inches to your piece, they can make a real difference to your choice of size. You can create your own frame or mount with our handy online designer.
Go Big Or Go Home
A good rule to remember is the bigger, the better. If you're struggling to decide between a smaller or larger piece, it's always advisable to go for the latter. A bigger work will stand out in all the ways that a moderately sized one won't, which is what you want, right?
To eliminate any doubt, make sure you have your measurements to hand wherever you go. It will save you a lot of time.
Take Furniture Into Account
Even if your décor is ultra-minimal, chances are you'll still have some key bits of furniture to navigate. In fact, it's in spaces such as these that art can become a real focal point. Should you wish to tie everything together with the addition of an eye-catching picture, make sure it works well with items like sofas or tables, especially when positioning the frame over these objects.
For best results, the size of your artwork should be ? to ¾ of your furniture's width and placed 6 to 12 inches above it. Choose to do otherwise and your piece may fade into insignificance.
Consider Orientation
Once you know your size, something else to think about is your artwork's orientation. Portrait or landscape options lend themselves to different wall shapes. For instance, it's recommended to pair a landscape piece with a wider wall as it will cover more space. Portrait styles are best suited for narrower walls, to create the idea of height.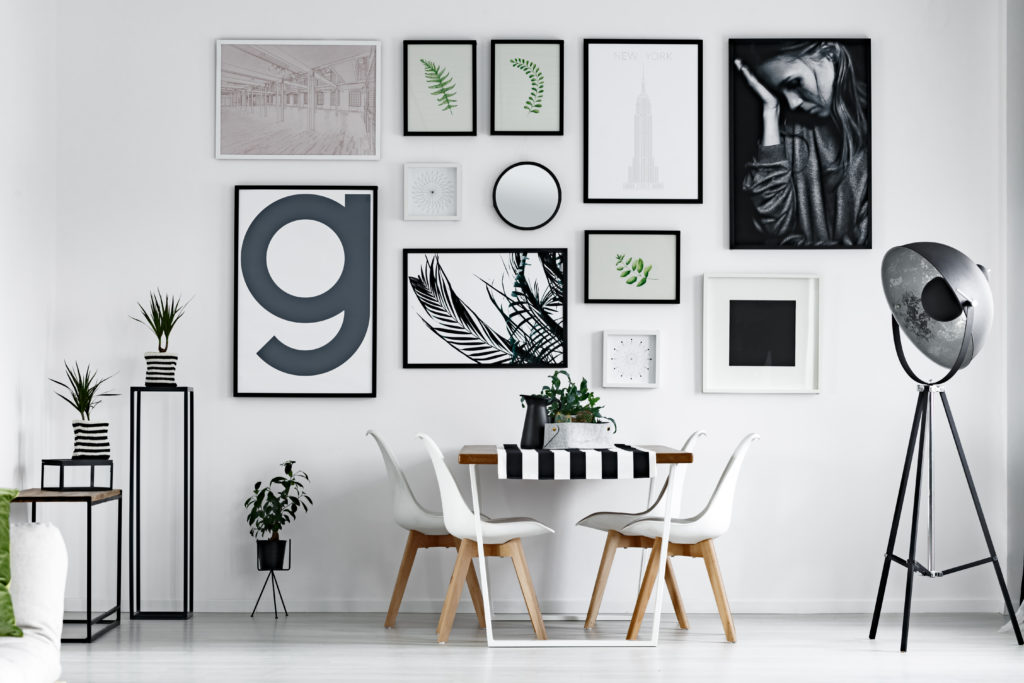 Visualise, Visualise, Visualise
Whilst nothing can truly prepare you for what your picture will look like, you can do the next best thing: create a visual representation with the help of paper and masking tape. Leave this on the wall for a few days to give yourself a chance to get used to your artwork's dimensions. It might not be 100% accurate, but it's a good way of identifying any misgivings before you make a purchase.
Mix It Up
Feeling a mix of smaller and larger pieces? Then you need a gallery wall. This hanging option, which originated in 19th century France, can be united by artist, theme or colour to create a truly stunning visual. Just remember to space these evenly (3-6 inches should do it) and consider your flow. Do you want this to be symmetrical or more random? Make a choice that's reflective of the overall style of your space.
Picture Frames Express
We hope you enjoyed reading our guide on how to choose the right sized art for your space. For more tips and tricks, please visit our blog. Be sure to make use of our online tool to create your own single frame, multi frame or mount design for your artwork.