Small Changes That Make a Big Difference in Your Home
Renovating your entire home can be costly and time consuming but by making some small changes, you can really give your house that newly made over feeling! We've listed some cheap and easy ways to freshen up your home and make all the difference. 
Paint the walls
It's not as time consuming as you think! You can pick many or few walls to make this project as big or as small as you want; a really quick and easy way to change up a room entirely. Maybe you could change your entire colour scheme or have a brightly coloured feature wall to make the room pop? The choices are endless. 
Additionally, rather than just painting the whole wall one colour, how about painting a mural? Whether it be the entire wall or just a small section, it would be exciting and unique and would completely change the room. 
Put up new artwork
If you don't have the time to paint the walls, you can incorporate some new exciting artwork to brighten up your space and give it the pop it's been looking for.  If the wall space was previously empty, now when you walk into the room, it will feel fresh and new! It's so simple, yet effective.
Change your doors 
We all use doors, every day in fact. They're a staple in our home and most people don't realise how much they can change the vibe of a home. You can change them in a few ways: painting them a different colour, dressing them up with accessories or just buying new doors all together. Changing your door to white will give it a fresh feeling whereas you could paint it pink for that girly energy! 
Change your door handles 
Maybe you don't have time to change your doors or maybe you like them the colour they are, so, for a more subtle change, focus on the handles. Add something fun and unusual to make it more inviting! Door handles are cheap and easy to replace, making this a simple change with a big impact. 
Change your lighting
Light helps to create atmosphere and ambience. Try swapping out your bulb for one with a higher watt for a brighter room which in turn can make you feel alert and energetic. Additionally, you can also simply swap the lampshades.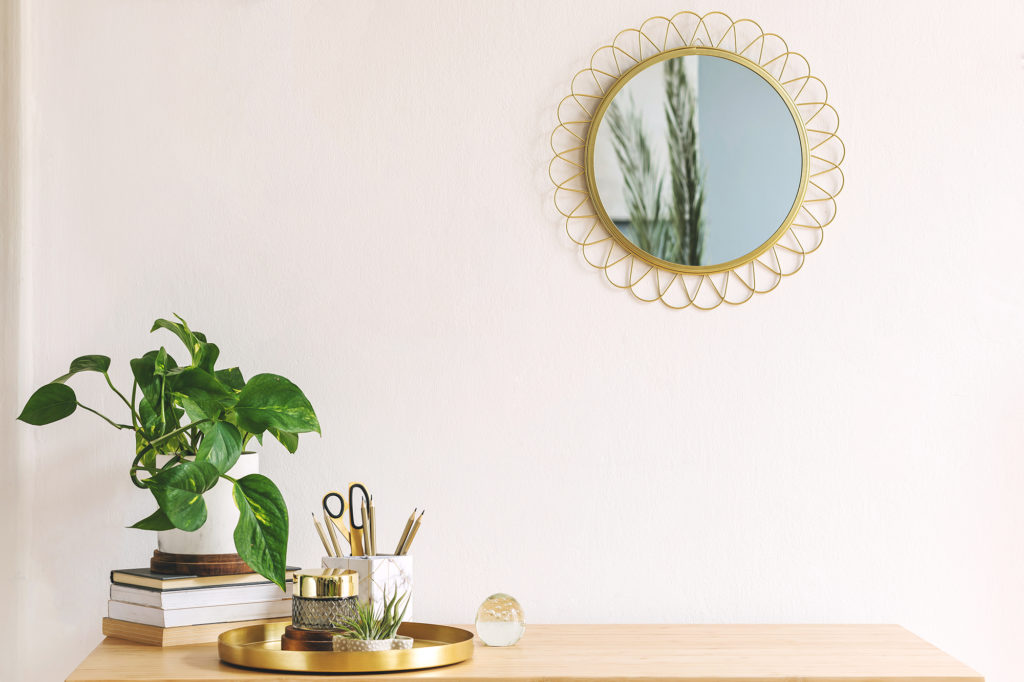 Add houseplants
Bring some life back into your home by… bringing some life into your home! The colour green gives a sense of nature which, in turn, brings the feeling of peace. Added bonuses of having houseplants around, is that they naturally purify the air and boost your mood increasing productivity. 
Add statement mirror
Mirrors have an usual effect on rooms. They give off the impression that the room is bigger than it actually is. So, by adding a statement mirror to a wall can not only make the room feel new but give the illusion that the room is bigger. Having mirrors in spaces where you have a patterned rug or laminate flooring can bring length to your rooms. 
Add area rug
Rugs help to tie all of your decor together. They can make even the most basic of rooms seem chic! If you have a plain room, a multicoloured, patterned rug can be your feature piece. If you have a busy room, a single-toned rug could help break things up. 
Rearrange furniture 
A really easy way of sprucing up your space is by simply moving your furniture around. It's easy to become accustomed to the way your furniture is laid out, so a little rearrange of your furniture can make it feel like a different house. The best part about this, is that it doesn't cost a penny! You can change it around as many times as you like and if you don't like it, you can change it back. 
Declutter your space 
Have too many things? Half of them you don't even use? Having too many items in one room can make the space look unclean. When wanting to change up your space, just having a clean out can make the biggest of differences. 
—
We really hope these tips helped you and if you used any, be sure to show us! We would love to see any photos you took, so don't forget to tag @PictureFramesExpress in your post so we can feature you on our social media pages!