Halloween Photography Tips
The Halloween period is fast approaching and with it, the gorgeous glow of Autumn colours and the most spooktastic time of the year. So grab your costume, paint your face and let's get going with our top Halloween photography tips.

The Tricks to get the Treats:
Ghosts (Exposure)
Want to get a mystical figure in your Halloween shoot? Increasing your exposure could be the trick you're looking for. As with most spooky photography the darker the better to get your desired effect, and there's no harm in picking a foggy day.
To get your ghosts, simply increase your shutter speed to say 30 seconds, and have your subject walk or move during this time. The effect is any moving objects will appear transparent and so ghost-like in your picture.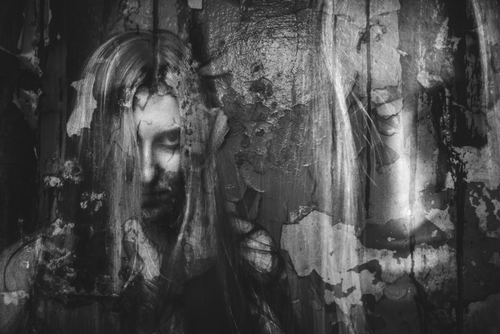 Seeing Double
The double exposure setting on your camera is a great tool to have a bit of fun with at this time of year. To use it first take an initial photo and then select it within your cameras multi-exposure mode. From here, switching to live view mode your camera will auto overlap your first image for your ghostly effect.
Levitation
Want to get a bit more magical? Levitation photography is great fun and with some skilled photo editing can produce seamless results. To get your levitation capture; photograph your scene minus any of your props first, and then a second time with your subject on the prop to 'float them in the air'. Then using a tool such as clone stamp in photoshop you can edit out your prop so your subject appears to be floating mid-air!
Tip: Minimize any changes to your environment between the first and second shot for continuity. In particular, ensure your camera is set to manual so colour and lighting don't change between your shots.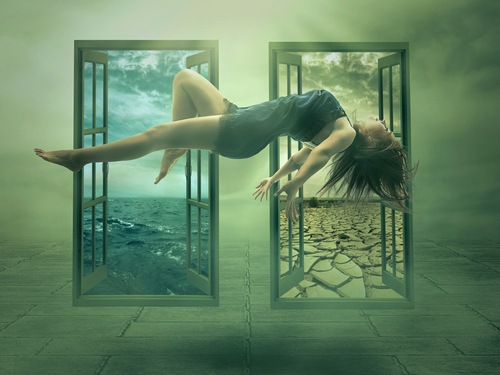 Silhouettes
Silhouettes are a great way to add some mystical magic to your capture, this works particularly well if you have a particularly striking costume shape, and if you have some autumnal bare trees in the background to create the ideal ghoulish scenery. Alternatively, a glowing orange/red sunset would act wonderfully as your silhouette backdrop.
Props
Props are everything at Halloween especially for a photo shoot; whether it's costume props, or scenery, it's so easy to get your hands on spooky necessities at this time of year.
Play around with children's Halloween party decorations, cobwebs, and lanterns to create your very own ghoulish grotto ideal for a photography session.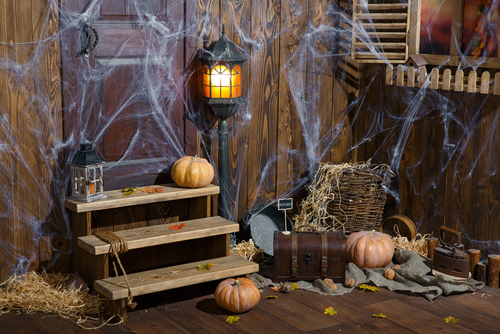 Ghoul Lighting
We're not talking just grabbing your oil lamps and jack o'lanterns, thinking about your locational lighting also. A great idea is to diffuse your flash with coloured cellophane to lessen the light impact as well as add an eery coloured glow to your photo.
Alternatively turn off your flash to avoid stark lighting in your shot, and slow down your shutter speed or alternatively adjust your ISO for light sensitivity or use a larger aperture, all of which will help to allow in more surrounding light.
Scenery
As we've mentioned this time of year is perfect for spooky photo shoots. Bare-branched tees, foggy mornings and darker days mean everything is a lot more atmospheric and this can be pulled through into your shot.
Scout out your local area*carefully* for abandoned buildings, churchyards that may be suitable locations for your shoot (but please remember to be considerate of others, stay safe and respectful of your surroundings).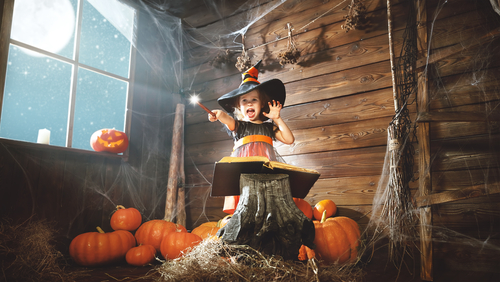 If you have kids keep an eye out for seasonal events happening near you, particularly if they welcome costumes as this could be a great place/opportunity to get some great captures of your mini ghoul all dressed up in a ready-made scene.
Need a refreshed in photo composition tips and tricks? Have a read of our 14 Composition Tips Every Photographer Should Know.