Seven Steps to a DIY Family Portrait
Whether playing out in the summer sunshine or taking advantage of Autumns colours, the outdoors is the perfect place to get capturing your family photos and memories. In this blog we are going to give you some tips to DIYing your own family portrait, perfect for those who are low on budget but want to capture a photo of their clan to add to the year's memory book.
Select a day/time
There's no denying Autumn & Summer are beautiful times of the year; full of colours which make beautiful and natural backgrounds for your family portrait.
No matter the time of year the best times of the day to shoot tends to be during what photographers call 'The Golden hours,' early morning or late evening  when the light isn't too full on which creates unflattering shadows on the face. Instead the softer sun allow more warmth and magic to the picture.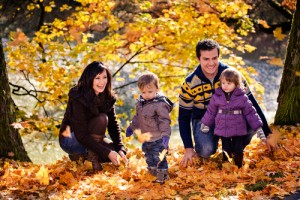 Pick out your outfits
What you wear has a big impact on the overall outcome on your pictures. It helps to create each outfit one at a time, ensuring you avoid bold print, patterns and avoid matching outfits.
A good idea is to create one outfit for yourself and then select colours which are coordinating/complimentary out for the rest of your family. Remember however if you have younger children they will more than likely not want to wear what you've put out and instead want to wear their bright pink onesie, so try and work with them and involve them in picking the clothes out.
Think of a present
Once again not everyone is going to be happy about spending an evening out taking photos rather than sitting at home or playing with their toys so think of a worthy reward for their taking part.
A great way to finish off a evening of family photoshooting is to take the family out to their favourite restaurant- and don't forget to include a massive pudding!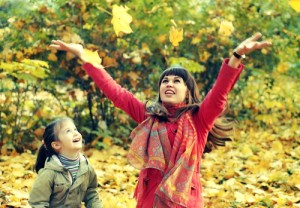 Pack up your Gear
Ensure you have all your camera gear, anything you may need packed and ready to go. You don't want to miss out on your planned evening.
One important thing you will need (if you have one) is a tripod, if you don't you can always position the camera on the floor to get your shot. As well as this, if you have a DSLR don't forget to take along a selection of lenses for the shoot.
Lastly if you have a young child, bring along their favourite toy to help keep them engaged and happy (and maybe some treats).
Select your Background/Setting
A great place to head for your family portrait is the local park. Filled with trees, shade, and pathways it's perfect for finding a quiet place to set up.
Some things to consider with your background is:
How close up is it? The further away, the more blurred the background will appear and the more focused your close up family which can create a great finished look.
Consider picking a long pathway which stretches out behind you in the picture.
Also consider the position of the sun. You don't want it positioned directly behind your family or in front (tends to result in squinting eyes). Instead angle your camera so the sun appears to be coming from one side of the camera.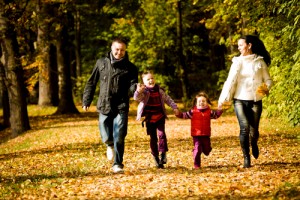 Set up your Camera
When setting up your camera, a good place to start is by ensuring the tallest member of your family can get in the shot, then begin adding the others. Add your children to the shot last as you don't want them to get too fidgety and bored (doesn't result in happy photos). Lastly get yourself into the shot.
A good alternative to a self timer is a trigger switch so you can take photos as and when you please rather than running back and forth to reset the timer. Also you should set your camera so it takes more than one shot at a time, resulting in more natural photos as faces and postures relax.
Have fun !
Family time is supposed to be fun, and it's great to look back on a family photo and remember how much you enjoyed taking them.
Mix up the more standard family smiling portraits by making it into something of a game. If you're surrounded by fallen leaves get throwing, play tag, tickle, give piggy backs. You want your portraits to look natural and genuine, and there is nothing more natural than laughter and smiles.
Don't forget to break up for some pictures with just you and your partner or the children. This also gives the rest of your family a chance to get involved and 'play' with the camera and give you instructions instead.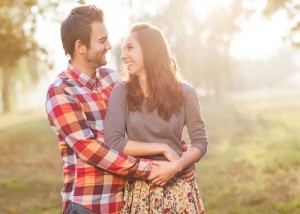 Once you're all done you should have a huge range of photos, some may not be 'the one' but they all equate to memories so it's time to frame your favourites, gift them, and why not keep the rest for a photo book.
Looking to frame your family portrait? Here at Picture Frames Express we stock a range of picture frames for every home, from those with contemporary style to rustic charm, take a look through our collection.