Plexiglass versus Glass
Here at Picture Frames Express we pride ourselves on offering our customers a variety of choice so that they can find their perfect framing solution.
Whether that be a choice between multi or single photo frames, colours, materials, sizes and mounts. However our customers often don't realise they have the opportunity to choose between glass glazing and Plexiglas® when making a purchase, and are often surprised to discover Plexiglass as standard accompanying their frames. In this post we are going to give you the ins and outs of Plexiglass, glass and why Plexiglas® is our glazing of choice for customers.
Formation: Plexiglass & Glass
Plexiglass, scientific name Poly(methyl methacrylate) or PMMA is a form of plastic, more specifically a clear sheet of acrylic. Whereas glass, also inorganic is solid, but created from a cooled liquid. Typically Glass was the preferred glazing as it offered a clear, solid protection to work. However as time and technology has progressed, Plexiglass is generally considered the industry standard.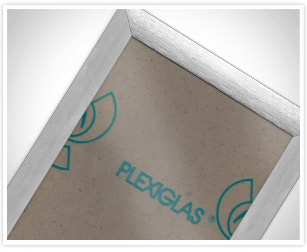 Strength- Shatter and Scratch
Plexiglass has a higher impact strength than glass, meaning it requires more force behind it to break.

Likewise its composition means that even when it does break, unlike glass which breaks into what seems like hundreds of pieces, Plexiglass is not as susceptible to shattering.

No matter what ornament, display or piece of art you cater for, the trick to getting the most out of it is knowing how to protect it. In the case of Plexiglass, it is more likely to become damaged from abrasive chemicals, however it is easy to polish without causing damage.
Protection
Both glass and Plexiglass are capable of carrying out their main purpose, acting as a barrier to protect pieces from dust, dirt and chemicals (whether they be airborne or liquid). However they are not necessarily equipped to combat all the forces.

Both Plexiglass and glass are now available with added UV Protection, however Plexiglass is more common to offer UV resistance, protecting your photos and artwork from damaging UV light.
Visuals
There is nothing more annoying than a piece of art or a photo obscured due to light being reflected. Glass, unlike Plexiglass tends to be more susceptible glare.

Clarity refers to the quality of clearness of an object,the clarity of picture frames tends to be reflected by the amount of light it lets through. Glass lets through on average 80% of light, and Plexiglass lets through around 90% of light.

Although scratch resistant, Plexiglass is more prone to scratching than glass.
Weight
One of the biggest differences between glass and Plexiglass is weight. Glass is a lot heavier than Plexiglass which need to be considered if you are planning on hanging a picture frame to ensure the peg and wall can support the frame.
Conclusion
Glass is still great for framing however technical advances have allowed glazing such as Plexiglass to offer the benefits that glass already provided to framing, but added extras such as increased clarity, widely available UV protection and a lighter weighted finish. What it all comes down to however is personal preference; if you want the weight and traditional finish that comes with glass, or a glaze which is less affected by abrasive chemicals then glass is for you.
Here at Picture Frames Express we send out Plexiglas® as standard with our frames, however customers are able to specify if they wish to have glass in the special requirements box of the checkout.
Please Note: All picture frames from Picture Frames Express is sent out with a laminate sheet covering the Plexiglas® to protect the glaze on its way to you. Upon delivery, if the 'glass' of your frame appears scratched or tinted, double check that you have removed the protective covering.
To see our full range of Picture Frames, click here.