Top Tips For Creating An Art Studio At Home
With the emergence of COVID, we have seen people looking to optimise their home to facilitate leisure activities and hobbies. If you are an artist, making a space within your home that acts as your studio is a fantastic idea. Not only will you save the money you would have spent on studio rent, but you have the flexibility to work whenever and however you want. In the following post we are going to take you through our top tips for creating an art studio at home.
Purchase A Good Quality/ Ergonomic Chair
As with any office or studio space, you are going to spend countless hours sitting at a desk. If you are creating an art studio you may spend less time seated than you would in an office. Still, if you are an illustrator or drawer you can expect to spend a good amount of time seated at your workstation. Whilst doing this you want to make sure you are as comfortable as possible.
An Ergonomic chair is designed to support your body. Ergonomic chair designers consider posture, support and comfort when creating their product. If you are sitting improperly at a desk for hours a day this can lead to all sorts of posture issues, aches and pains. Having good posture has a number of benefits. Chiefly, it will ensure your body is free of any imbalances and will help reduce neck and back pain.
If you are planning on spending a lot of time in your studio at a workstation we thoroughly recommend investing in a high quality, Ergonomic chair.

Choose The Right Space
This is more difficult if you are not shopping for a studio space but looking to adapt an area in the home. Still, there are a few things you can be mindful of when choosing where to set up your studio. These include:
Lighting
If you have the luxury of receiving lots of natural light in your home this is a big plus. If you can, look to build your studio in an area of the home that receives lots of natural light. If you confine yourself to a poorly lit and cramped space, it is highly unlikely that this will be somewhere you are productive or comfortable. Your studio is a place where you can go to unwind and express yourself. We believe great art is made only when it is facilitated by the right space.
Atmosphere
In keeping with some of what was just said, your studio having the right atmosphere and 'feel' is important. Pick somewhere in your home that you know will be comfortable. Setting up your studio in your kitchen, for example, is unlikely to be the spark to your creative flame.
Space
The type of space you set up in may depend on your specialism. A painter, for example, may need more space (easels, canvases) than an illustrator. There are an abundance of storage options on the market today that make smaller spaces workable. You do not need a gigantic studio space to be comfortable and create great art. As we suggested earlier though, try and pick a place in the home that isn't cramped and dark.
Invest In Good Storage Options
We can't stress enough the importance of storage in your home studio. Having good storage options will ultimately give a small space a larger feel. Moreover, it makes the idea of a home studio more achievable. The vast majority of people may not have an abundance of space at home to dedicate to an art studio. With creative storage, you can take that tiny box room at home and transform it into your creative den.
Items like the Kallax shelving unit from Ikea are fantastic for offering a lot from a little. Individual shelves within the unit can be used to store or display all sorts: from paint and brushes to books and prints. We do, however, encourage you to get creative with storage. There are examples of budding artists repurposing vintage drawers to hold their supplies. Your options for storage are unlimited. Look at your space, assess what areas you can dedicate to storage and starting your journey.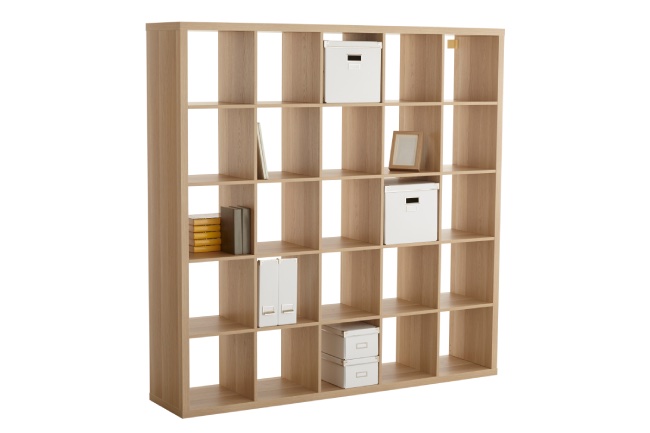 A Good Desk Is Important
Just like a good chair, you cannot underestimate the importance of a good desk. Not only will your desk function as extra storage, but it is where you will spend the majority of your time. There is nothing worse than a small and restrictive desk. Part of the creative process is having the freedom (literally and figuratively) to explore your ideas. There are countless desk options out there that can be browsed with a simple search. The adjustable element of this desk makes it a fantastic option for an art studio. Just as with storage, we encourage you to assess the available space you have in your home studio. From here you will know what the best option is.
Plants Plants Plants
You may have noticed elsewhere on our blog that we have talked about incorporating plants into design. We're all for plants and don't think their importance can be understated. Studies have shown that plants in a commercial setting can improve mental well-being and promote productivity. Plants may therefore have a practical use in your studio as well as adding aesthetic value.

Thank you for taking the time to read our post on our Top Tips For Creating An Art Studio At Home. To discover more art topics and tips, plus photography news, keep an eye on our blog!