Accessories - Tapes
We offer three different types of tapes, these are:

Brown ' eco ' Masking tape, available in 50mtr x 25mm and 38mm widths.
Use to Seal the Back of your frame and for Fixing Prints to mounts. Taping up your frame at the back Provides a Nice Neat Finish. Keeps the frame tight to the backing board which aids rigidity and most importantly it stops Dust, insects and bugs getting into the frame and damaging the contents, Not for use on aluminium frames.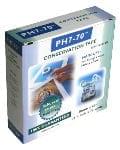 Ph7-70 Conservation tape, available in 66mtrs x 25mm and 50mm widths.
High Quality White 70gsm kraft paper tape with acid-free pH Neautral acrylic adhesive which has excellent ageing qualities, with a high initial grab, which is helpful for art on heavier paper and for working with textiles, use for hinging prints and artwork to mounts.

Finger lift, double sided tape, available in a 50mtrs x 12mm width.
Double-sided transfer tape is usually a bit fiddly when peeling up the backing paper, with this tape however, the backing paper is wider than the adhesive, so your finger nail is easily slipped under the edge of the backing paper to peel it up. Suitable for many uses, adhering mount backings to picture mounts and lightweight items to mountboard for example.