Get Happy Snappy with The Living List
New Year is the time to think of the things you want to achieve over the coming year; whether its places you want to visit or activities you want to try out, it's about making the most of the year ahead.
Picture Frames Express has teamed up with Beagle Street Life Insurance to produce a section of their Living List 'Happy Snappy'.
The Living List is a selection of lists made to help people to further enjoy and celebrate their hobbies and passions, and take advantage of the opportunities available to them.
The Living List is a great tool to create your very own living list; simply select a persona e.g. Foodie, Party Animal, Book Worm or Happy Snappy and see all the life lessons, tasks, and ideas which you can add to your list for the coming year.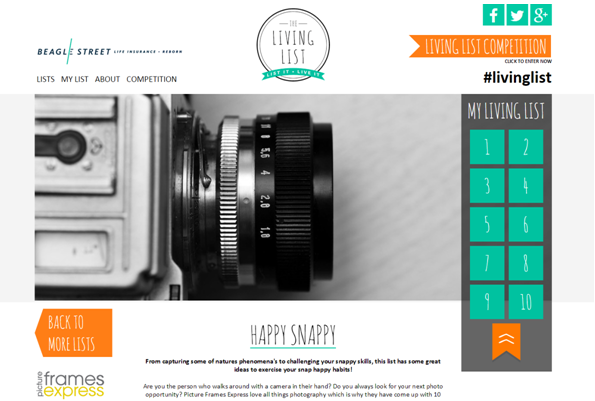 To make your own list visit The Living List, where you can take a look at our Happy Snappy feature to help you embrace the photographer within, as well as enter their competition for a chance to win £1500 so you can begin ticking off your Living List.
Do you have any photography related resolutions? We'd love to hear them. Share them with us on our Facebook or Twitter page.