Fit Springlock security fittings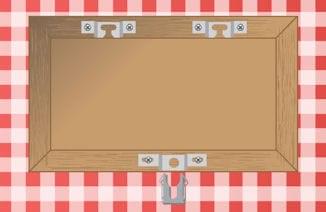 Using the screws provided Fix 2 Hanging Plates to the Back of the Picture Frame equidistant from each side and to the top of the picture frame. Push the Springlock into the bridge And then Fix the Springlock bridge and lock dead centre at the bottom.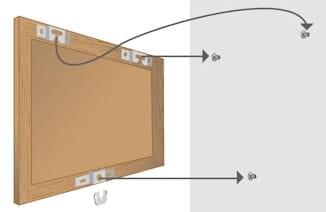 To Fit on the wall
Measure the distance between each top plate opening and mark the screw positions on the wall, making sure they are level.
Drill the two holes in the wall and plug as necessary, then insert two Screws leaving around 5mm of the screw head proud.
Drop the frame onto the screws, sliding the slots down onto the exposed screw heads, the Slot heads are made in a way that will allow lateral movement in case of inaccuracy
Check the Frame is level, if not the Slot fixing allows a little vertical movement by use of the slot, through which the small screw used to fix the fixing to the frame can be moved.
When satisfied all is level Pull Back the bottom Spring clip with the release tool so the spring lock is in the open position and exposed from the bottom edge of the frame and mark the position on the wall.
Remove the frame from the wall and measure up from your marked position approx 10mm, this will give you the bottom screw position.
Drill the hole and plug as necessary and insert the screw and leave the screw head proud as explained above.
Put the frame back on the wall and the Bottom screw should sit neatly in the spring lock Screw hole at the bottom
Using the release tool,  Push home the Spring lock clip to secure the frame to the wall.